The Secret Life of Arnold Bax
One of the key works in the next Bath Recitals' concert is Arnold Bax's 1926 Piano Sonata No.3 in G#. Bath Recitals President Tom Clarke and Nicholas Keyworth reflect on how things are not quite as they first appear when it comes to Bax's music…
On the surface, Arnold Bax (1883-1953) was a successful composer from a prosperous Hampstead family, devoted to cricket, and conforming outwardly to the role of the quintessential English gentleman. His musical education was orthodox Edwardian and after a distinguished career he was appointed Master of the King's Musick spending his last years in retirement in Sussex.
However, behind this facade of respectability lurked a restless nomad with a turbulent private life.
His family wealth enabled Bax to travel extensively. In 1910 he was in the Russian Empire hot in pursuit of Natalia Skarginska, a young Ukrainian whom he had met in London.  – one of several women with whom he fell in love over the years
The following year he gave up his chase and returned to England marrying the pianist Elsita Sobrino. They lived firstly in London before moving to a well-to-do suburb in Dublin, Ireland.
It wasn't long before he began an affair with the stunning brunette pianist Harriet Cohen whom had been dubbed by Albert Einstein his 'Beloved Piano-Witch'. Bas left his wife and children to live with Harriet in Swiss Cottage, London.
In the mid-1920s, while his affair with Cohen continued, Bax met 23 year old Mary Gleaves, and for more than two decades he maintained relationships with both women. Harriet also had a relationship with Ramsay MacDonald when he was Prime Minister from 1929 to 1935
Film director Ken Russell's controversial 1992 film, The Secret life of Arnold Bax tells the story of how the composer was caught between his loyalty to Harriet Cohen and his obsession and quest for inspiration through Annie, a young cockney fan-dancer whom he meets in a sleazy smoke filled club. Russell plays Bax alongside Glenda Jackson as Harriet Cohen appearing in her last full role before becoming an MP.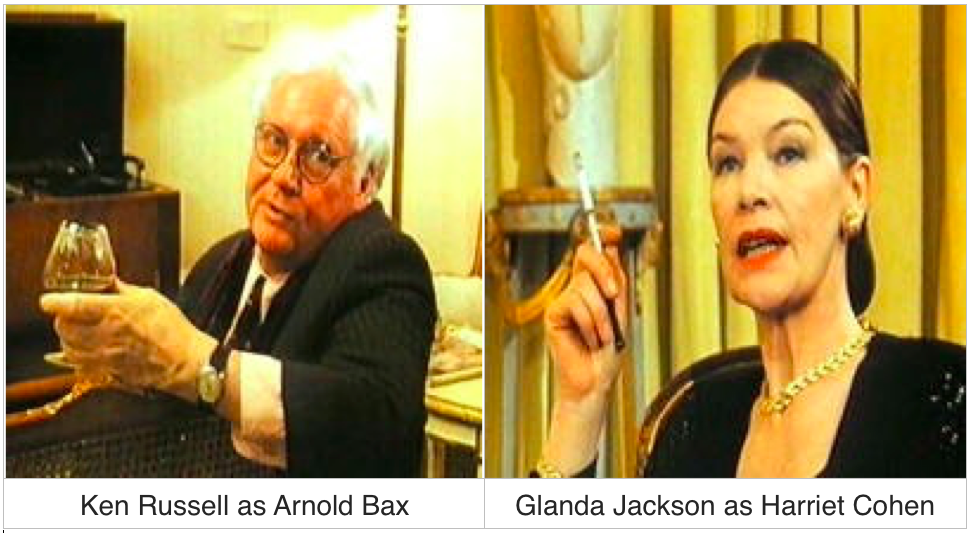 So to what extent did all this impact on Bax's music?
The answer is enormously – and this sonata is certainly no exception. This is a richly emotive work intimately projecting an extravagance of feelings. Its opening movement is stormy and passionate, the lento effuses lyrical tenderness and the finale is full of ecstatic fire and rapture. This is the work of a composer not only in tune with, but actually riding high on his emotions at the high watermark of his inspiration.
It's going to be quite a performance on Saturday 2 July at Bath's wonderful Pump Room! Book your tickets here.
https://www.bathrecitals.com/wp-content/uploads/2016/06/Bax-with-his-pipe.jpg
944
839
admin
https://www.bathrecitals.com/wp-content/uploads/2017/04/bath-recitals.png
admin
2016-06-26 10:37:21
2016-06-26 10:38:26
The Secret Life of Arnold Bax