We're so Pleased to be Back!
We were thrilled that Bath Recitals was back on Saturday with a terrific evening of great music, terrific musicians and a magical atmosphere with the Gildas Quartet.
That was our first concert in over 15 months so it was with much excitement that we were able to present this dynamic ensemble to kickstart the season. Thanks to the hugely supportive staff at St Michael's everything was 'Covid compliant' with socially distanced seating, the venue sanitised beforehand and everyone masked up for the event.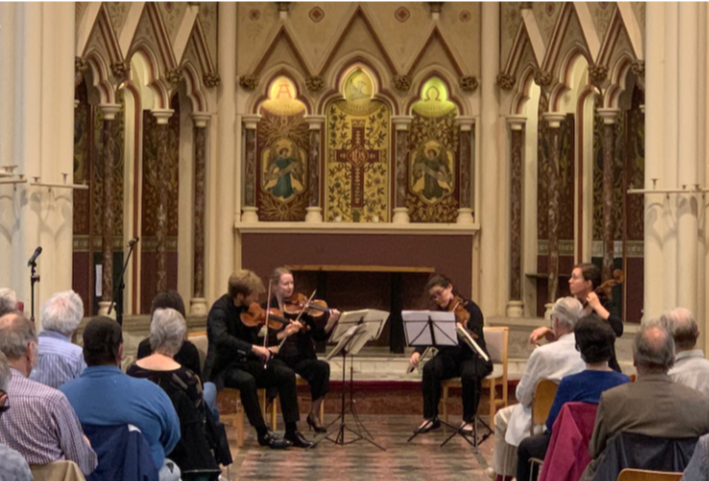 Irrespective of all that everyone felt relaxed and comfortable. A big thank you to everyone in the audience who joined us for this first concert in our 2021 series.
The Gildas Quartet were particularly thrilled to be performing together again too as that was the first live performance they have been able to give for some time. 
Providing a platform for emerging young professional musicians such as the Gildas Quartet – many of whom have studied at leading conservatories in the UK and abroad – is an integral part of the mission of Bath Recitals.
We do rely on your help to enable us to support the best of our future musicians to be able to rise successfully to the top of their professions – particular in these challenging times for the arts. Please consider becoming a Friend of Bath Recitals or making a Donation.
We do hope to see you next month when we present a feast of Baroque music with Convivio. This dynamic young ensemble will take us on a musical journey with music from Purcell, Handel, Telemann and Vivaldi.
Convivio: From Leipzig to London
Saturday 28 August 7.30pm
St. Michael's Church, Broad Street, Bath BA1 5LJ
https://www.bathrecitals.com/wp-content/uploads/2021/07/7a76f8c4-00ca-cb6b-44e4-93820f4f7c06.png
749
1200
admin
https://www.bathrecitals.com/wp-content/uploads/2017/04/bath-recitals.png
admin
2021-07-09 14:20:03
2021-07-09 14:43:36
We're so Pleased to be Back!