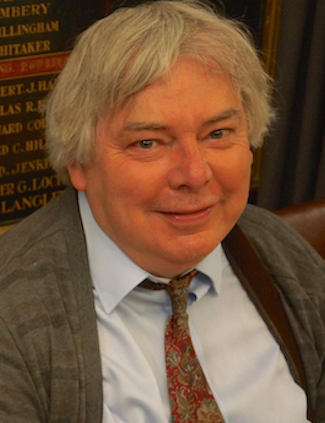 Happy Birthday Mr President!
Bath Recitals' founder and now President Tom Clarke usually marks our September concert with a celebratory concert and a giant cake. The Covid-19 pandemic has changed so much in the Arts – and no concert means no cake which is especially regrettable as it's Tom's 70th birthday!
We wish him a very happy day and will defer celebrations until next year which marks the organisation's 40th anniversary.
What better way to say Happy Birthday Mr President than to show your support for the valuable work of Bath Recitals as a Friend…
---
Tom has been a colourful and prominent figure in the cultural life of the city for 40 years and since the 1980's has staged 556 'shows' (as Tom likes to call them). This has had a hugely positive impact on the cultural scene in the city as well as providing a valuable platform for young professional musicians.
The son of a Yorkshire coal miner, Tom studied at the Royal Academy of Music with Michael Head. After being awarded an LRAM and ARAM he gained a fellowship from Trinity College of Music for a research FTCL in 1976.
"In the midst of the current pandemic it is now harder than ever for young musicians to make a living. I believe that the work we do through Bath Recitals helps support our musicians of tomorrow."

Tom
Tom came to Bath in 1980 with David Gregory to found Connaught College and the Bath Georgian Festival Society giving a platform to young professional musicians. This evolved into Bath Recitals to focus more on smaller scale chamber events and to give even more support for emerging artists.
More than ever we need your support and from just £30 a year you can help ensure Bath Recitals continues to thrive. By becoming a Friend of Bath Recitals you can enjoy our concerts knowing you are supporting our valuable work with young British musicians.
---
Why Join?
* BACKING YOUNG BRITISH MUSICIANS
By joining as a Friend you are helping us to give a platform to young British musicians
* FREE PROGRAMME
Enjoy a complimentary programme at each concert
* PRIORITY SEATS
Never worry about where you will be sitting again
* ACKNOWLEDGEMENT IN PRINT/ONLINE
Your support acknowledged (if you wish)
* ANNUAL FRIENDS CONCERT
Enabling us to stage the annual Friends concert for rising young musicians
Support us more?
Would you be able to support us more through an extra donation, sponsoring a concert or remembering us in a legacy?
You can make a donation online or get in touch if you would like to talk more about how you can support our valuable work.
https://www.bathrecitals.com/wp-content/uploads/2020/09/Bath-Recitals-President-Tom-Clarke-2015.png
457
325
admin
https://www.bathrecitals.com/wp-content/uploads/2017/04/bath-recitals.png
admin
2020-09-23 09:40:58
2020-09-23 09:46:38
Happy Birthday Mr President!