Extraordinary music for flute, viola and harp
Join Bath Recitals on Saturday 2 July to hear some great music with this colourful instrumental combination…
The Aglica Trio head to Bath on 2 July with music by some of the most well-known composers and arrangers who have been attracted by the unique beauty, variety and colour combination of flute, viola and harp.
Unlike the more conventional string quartet, none of these pieces are alike with each composer and arranger creating a unique sound world with their own captivating music:
---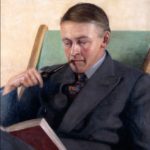 Elegiac Trio by Arnold Bax was his response to the 1916 Easter rising when his friend was executed and life in Ireland was never to be the same again.Yet the music is not angry or furious, more a reflective and dream-like celebration of the Ireland he loved. 
---
Maurice Ravel's Sonatine was originally written for solo piano, but arranged in 1994 as a commission for Amelia Freedman and the Nash Ensemble. The music pays homage to the graceful style of the late eighteenth century and classical structure. 
---
Zodiac Trio by Welsh composer William Mathias characterises the three members of the Robles Trio who premiered the piece in 1976. Through Pisces, Aries and Taurus, the three movements range from playful energy to humour and joyful sensitivity.
---
Debussy's Sonata for Flute, Viola and Harp was one of his last compositions. Experimental in style, and making the most of the different sound worlds of each instrument, Debussy said 'I can't say whether one should laugh or cry. Perhaps both at the same time?'
---
Argentinian Astor Piazzolla brought Tango from the bordellos and dance halls of Argentina to the concert halls of Europe. Histoire du Tango traces the evolution of the Tango and is often performed in different combinations of which flute, viola and harp is particularly successful.
---
Two works by the American Jazz composer George Gershwin with A Foggy Day from the 1937 film A Damsel in Distress, its title referring to London's polluted pea-soup fogs of that period, and Love Walked In from the movie musical Goldwyn Follies in beautifully crafted arrangements for the trio.
---
Contemporary classical Uruguayan-born American composer Miguel del Aguila wrote SUBMERGED based on Alfonsina Storni's romantic, surrealist poem Me at the Bottom of the Sea. On the surface, things seem innocent and light-hearted, but beneath the surface it can be a different story!
---
With this wonderful and varied music, three terrific International performers from Wales, Poland and Belgium, a beautiful and convenient city centre venue, this concert is too special to miss. Make sure 2 July is in your diary and book your tickets online now.
The Aglica Trio
Saturday 2 July, 7:30pm
St Michael's Church, Broad Street, Bath, BA1 5LJ 
Arnold Bax: Elegiac Trio
Maurice Ravel: Sonatine
William Mathias: Zodiac Trio: Pisces, Aries, Taurus
Claude Debussy: Sonate pour flûte, alto et harpe
Astor Piazzolla: Night Club, 1960
George Gershwin: A Foggy Day & Love Walked In
Miguel del Aguila: SUBMERGED



https://www.bathrecitals.com/wp-content/uploads/2022/05/unnamed-6.jpg
698
1200
admin
https://www.bathrecitals.com/wp-content/uploads/2017/04/bath-recitals.png
admin
2022-06-11 10:23:23
2022-06-11 10:37:37
Extraordinary music for flute, viola and harp