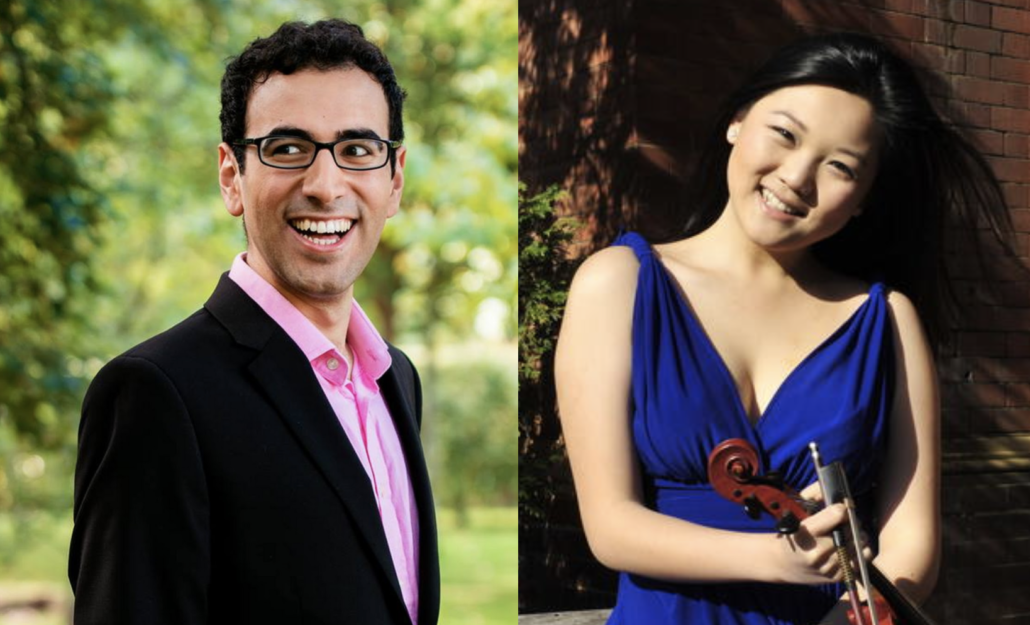 Music for Violin and Piano has to be one of the most perfect pairings in the world of chamber music. The next concert from Bath Recitals on Saturday 13 April does just that with a dazzling recital by pianist Gamal Khamis and violinist Emily Sun …
Three of the pieces in the programme by pianist Gamal Khamis and violinist Emily Sun are violin sonatas – a composition for violin accompanied by a keyboard instrument. These originated in the baroque age but it was not until the classical period and the invention of the piano that composers really began to see the potential for this duo.
PROGRAMME
Beethoven Violin Sonata No 8 in G Major Op.30 No.3
Grieg Violin Sonata No 3 in C Minor op 45
Chopin Ballade No 1 in G Minor op 23
Schumann Violin Sonata No 1 in A minor Op.105
Igor Frolov  Concert Fantasy On 'Porgy & Bess'
---
Mozart wrote at least 36 violin sonatas – many with just two movements. But it is Beethoven whose ten violin sonatas really show the development of the genre into the mature and complex style we know today. It is his 8th violin sonata which opens the concert in grand style on 13 April. Dedicated to Tsar Alexander I of Russia in 1803, this sonata is characteristic of early/middle Beethoven as he starts to get adventurous with some extraordinary off-beats and syncopations.
As we move into the romantic age composers such as Schumann and Grieg pushed the boundaries of both the classical format as well as the capabilities of the instruments even further.
They each wrote three violin sonatas, Schumann writing his first in just one week in 1851. However, he said: 'I did not like the first Sonata for Violin and Piano; so I wrote a second one, which I hope has turned out better'. It was eventually given its official premiere by Clara Schumann (Robert Schumann's wife) and violinist Ferdinand David in 1852.

Norwegian composer Grieg's third sonata from 1886 is his most popular exemplifying his musical nationalism with beautiful references to Norwegian folk melodies and rhythms with Grieg himself describing it as 'the one with the broader horizon.'
When we come to the 20th century of course music starts to branch out into a myriad of new directions. The American composer George Gershwin integrated the influences of the emerging world of jazz into his work such as his opera Porgy & Bess. Distinguished Russian violin virtuoso and composer, Professor Igor Frolov has created a delightful and virtuosic fantasia taking the themes and Jazzy sprit of this much loved opera.
https://www.bathrecitals.com/wp-content/uploads/2018/12/gamal-emily.png
994
1638
admin
https://www.bathrecitals.com/wp-content/uploads/2017/04/bath-recitals.png
admin
2019-03-29 13:06:25
2019-03-29 13:06:28
A Match Made in Heaven