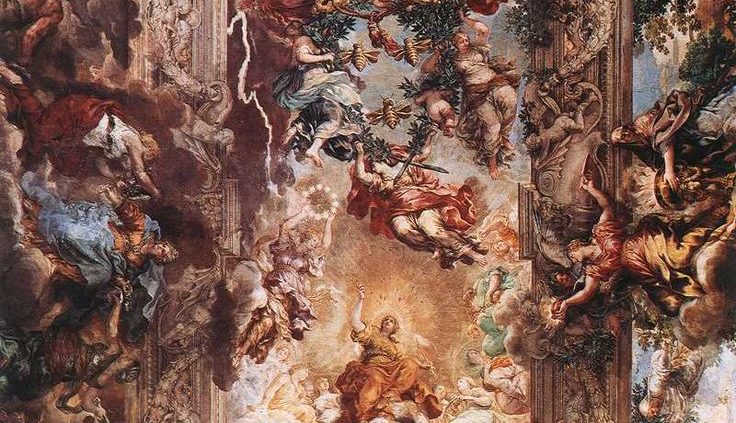 A Baroque Christmas Feast
This weekend is our spectacular seasonal offering Christmas Baroque with the Oxford Bach Soloists. Take a closer look at what's on the menu in this not to be missed Christmas Feast of music…
For our appetiser what better than to start with Corelli's dazzling Christmas Concerto featuring star solo violinist Bojan Čičić – one of today's leading exponents of the baroque violin. With Corelli's subtitle 'made for the night of the Nativity' this is the perfect starter for an evening of Christmas Baroque music.
No Christmas table would be complete without extracts from Handel's Messiah which will feature throughout the programme. Handel's great oratorio was composed in just 24 days and since its 1742 Dublin premiere has become one of the best-known and most frequently performed choral works in Western music. It is now a popular Yuletide event in itself around the world.
Lighter side dishes include the exquisite Es ist ein Ros' entsprungen by Preaetorius. Foretelling the birth of Christ, the song's popularity continues with modern artists such as Mannheim Steamroller and Sting. You may also recognise it as the film soundtrack to Love Story (1970) and The Time Traveler's Wife (2009). Other Hors d'oeuvres include a delightful Sonata by Corelli's pupil Carbonelli –  a key musical figure in early 18th century London society.
One of the main dishes to be served will be extracts from Bach's joyous Magnificat with the addition of the lutheran Christmas Hymns he added for a performance at Christmas. Bach never wrote anything more joyous and more richly inspired than this work which he wrote as soon as he took up his post in Leipzig in 1723. And let's not forget the The famous Air from his Orchestral Suite No. 3 as the perfect side dish.
Christmas would not be complete without a serving of a Christmas Anthem. So we have Behold, I bring you glad tidings by the English Baroque composer, Purcell. His only anthem composed specifically for the Feast of Christmas, this story of the Shepherds dates from 1687 and was written for Christmas in the Chapel Royal. It must have been a very popular work as manuscript copies have been spread throughout the cathedrals of Britain for centuries.
And to finish our Christmas Feast, two grand choruses from Bach's cantata Wachet auf! will round things off seasonally. Begun in 1724, this cantata is also known as Sleepers Wake and has been described by the musicologist William G. Whittaker as: 'a cantata without weakness, without a dull bar, technically, emotionally and spiritually of the highest order'.
CHRISTMAS BAROQUE
Saturday 16 December 2017 7.30pm
St Michael's Church, Broad Street, Bath
Corelli Christmas Concerto
Handel Messiah (excepts)
Pretorious Es ist ein Ros entsprungen
Carbonelli Sonata no 6
Bach Magnificat (excepts)
Purcell Behold, I bring you glad tidings
Bach Air on a G string BWV 1068
Bach Wachet auf (excerpts)
And don't forget our perfectly designed menu in the shape of a special souvenir programme available only on the night of the concert. Here you can find out all the details about the music, information on the performers and some fascinating background insights too.
https://www.bathrecitals.com/wp-content/uploads/2017/12/Pietro-da-Cortona-Allegory-of-Divine-Providence-and-Barberini-Power-fresco-Palazzo-Barberini-Rome.jpg
1018
736
admin
https://www.bathrecitals.com/wp-content/uploads/2017/04/bath-recitals.png
admin
2017-12-14 23:16:04
2018-05-23 21:31:28
A Baroque Christmas Feast