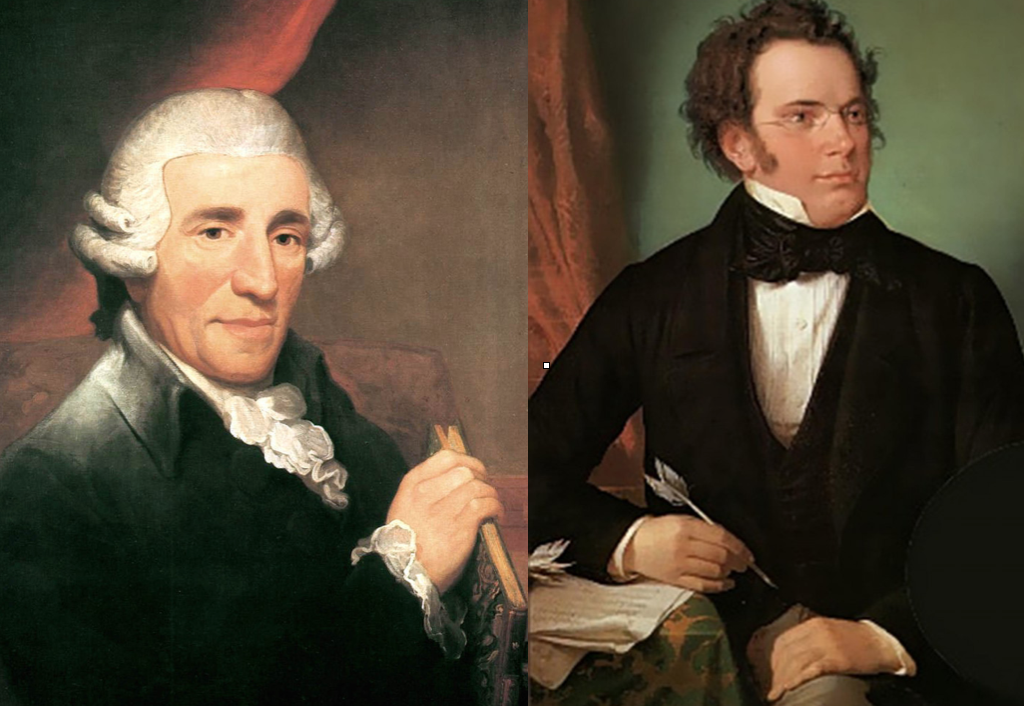 The Quartets of Haydn and Schubert
Two of the pieces to be played by The Dulcinea String Quartet on 11 November are by two of our greatest composer, Joseph Haydn and Franz Schubert. But, as Nicholas Keyworth discovers, their respective approaches to the string quartet couldn't have been more different…
Haydn's influence on classical music was immense. He was a friend and mentor of Mozart, a teacher of Beethoven, and the older brother of composer Michael Haydn. During his long life he composed at least 68 string quartets. Indeed he is often referred to as the Father of the String Quartet being, in effect, the originator of this hugely popular musical form from the end of the 18th century onwards.
Part of this uniqueness in his approach to composition must arise from the fact that for most of his life Haydn worked in isolation from other composers and the musical trends of the time due to his long career as a court musician for the wealthy Esterházy family in their remote estate. In his own words he was 'forced to become original'.
Nevertheless his music was widely circulated and he was regarded for much of his life as the most celebrated composer in Europe. Today, his chamber and orchestral music continues to be amongst the most performed music in the repertoire.
A clever business strategy of Haydn was to dedicate his string quartets to the rich and wealthy households of the time. One of these was Count Anton Georg Apponyi who paid 100 ducats for the privilege of having a set of six quartets publicly dedicated to him in 1793. One of these is also known as the 'Rider' or the 'Horseman' as a result of its 'bouncing' finale theme. This is the work which will be performed by the Dulcinea on 11 November.
Although Franz Schubert died in 1828 aged only 31, he too was also extremely prolific during his lifetime, But by contrast, Schubert's great output was songs with a catalogue of over 600 secular vocal works. Many of these were Lieder settings of German poems.
But when he was young he was clearly influenced by the great Haydn and by the age of 19 Schubert had completed 11 string quartets. But it was not until he was 27 that he embarked on his 12th quartet. After completing the opening movement, he started to write an Andante second movement – but that was it! And, as with his famous 'unfinished' symphony no one really knows why!
Did he get distracted by another musical project? Was he unhappy because it felt like a backward step in his writing? Or was it that after such a powerful first movement he was unable to come up with an effective one to follow it?
Schubert did write and complete a further three quartets after a gap of four years but he never returned to complete his 12th. Following his death, Schubert's brother Ferdinand sold the incomplete manuscript which found its way into the ownership of Brahms who edited the score and gave it its posthumous premiere in 1867. And we are also lucky to be able to hear this fascinating 8 minute work as part of the concert by the Dulcinea on 11 November.
The Dulcinea String Quartet
Josef Haydn String Quartet op.74 no.3 'Rider'
Franz Schubert Quartettsatz  D 703
Saturday 11 November
Old Theatre Royal, Bath
https://www.bathrecitals.com/wp-content/uploads/2017/10/haydn-schubert.png
706
1024
admin
https://www.bathrecitals.com/wp-content/uploads/2017/04/bath-recitals.png
admin
2017-10-28 07:00:39
2018-05-23 21:31:28
The Quartets of Haydn and Schubert