Accordion and electric guitar? A perfect match!
An interview between accordionist Bartosz Glowacki and Nicholas Keyworth of Revolution Arts
Bartosz Glowacki & Robert Lutz have been playing together for three years. I caught up with Bartosz to hear about their working relationship and the challenges of performing music for such an unusual combination.
Firstly, I asked Bartosz about his work as an accordionist and how he started working with Robert:
"Rob and I formed The Deco Ensemble back in 2013 as a Tango music group. For me the combination of accordion and electric guitar is inspirational and creates an amazing sound world. One can see them as completely opposing instruments but for me the sound Rob produces blends so well with the accordion offering endless creative possibilities.
In addition I currently have various other musical partnerships with cello, violin and clarinet, and i also have the Balkan music group Baltika."
One of the challenges must be repertoire as there simply isn't much music around for this combination of instruments. Rob explained a little more on this subject:
"The repertoire is very limited but the starting point is always to play music we love. We come from completely different musical backgrounds, Rob's is jazz and mine is classical contemporary music. The arranging process is very creative and always a lot of fun which I hope is transposed to the audience."
Bartosz and Robert have created a fascinating programme of music from the baroque to the contemporary. How do they put together a programme like this?
"The range of musical styles we perform reflects our personal interests and the fact that we are playing still very modern instruments. The tangos and choros we include to reflect the natural backgrounds of both instruments. However, the solo classical accordion works by Berio and Gubaidulina are among the most iconic 20th century classical accordion compositions. A work like the Steve Reich for electric guitar is included as it is an extremely demanding work both in the production process as well as on stage in performance."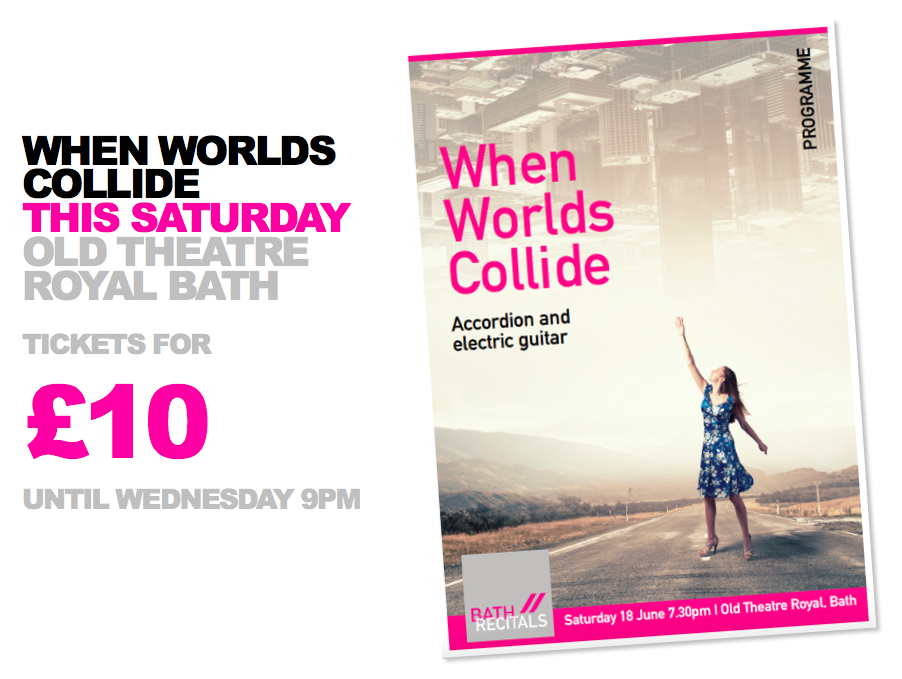 I was interested to hear more about the work of a young professional accordionist. I suggested that he presumably has to be quite flexible and able to adapt to a range of musical opportunities.
"That is true statement with which I completely agree. Classical solo accordion is still yet to be discovered in great concert halls so we have to be very flexible. Also I strongly believe that playing a wide range of musical styles is extremely beneficial and helps to see music in different ways. In my opinion to be a good soloist you have to be able to work with other instruments and play a lot of chamber music – that is where you can expand your stylistic awareness and learn about sound quality the most."
Finally I asked Bartosz to pick out a few highlights which we can look forward to in the concert on Saturday 18 June:
"The first half of the concert is a combination of baroque music and contemporary accordion compositions inspired by baroque elements. I would look forward for Gubaidulina's work as it is considered to be one of the best contemporary works for accordion.
Second half goes more into minimalism, improvisation and South American style. I would definitely look forward for Rob's version of Electric Counterpoint by Steve Reich and Piazzolla's History of the Tango in our duo creation."
https://www.bathrecitals.com/wp-content/uploads/2016/06/accordion.png
693
800
admin
https://www.bathrecitals.com/wp-content/uploads/2017/04/bath-recitals.png
admin
2016-06-14 11:45:08
2018-05-23 21:31:31
Accordion and electric guitar? A perfect match!